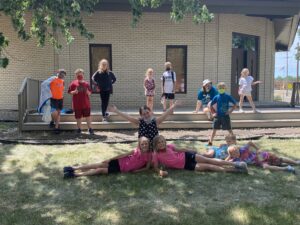 Vacation Bible School 2022
St. James youth grades K-6 join us August 7-11 at Saint James as we host our VBS day camp with Camp Onomia counselors! There is a theme for each day and a theme for the week. Students will take part in worship, small group Bible study, games, stories, crafts, music and all around fun! We will meet outside as much as possible and Onomia takes Covid protocols very seriously.
Camp begins daily at 9 AM and ends at 3 PM daily. If your schedule is such that 3 PM pickup is an issue please reach out to Amy Jermstad, we would like to make this work for as many families as possible! If you would like to sign up please email Amy Jermstad at ajermstad@gmail.com or call/ text her at 612-868-3411 to reserve your spot! Numbers will be limited so sign up soon!